All professionals at Tulsa General Veterinary Hospital maintain the highest levels of accreditation and pursue ongoing education to stay abreast of the latest trends in the medical field. Read on to learn more about our staff's experience and training.


---
Gregory A. Prisinzano, DVM Owner/Operator of Tulsa General Veterinary Hospital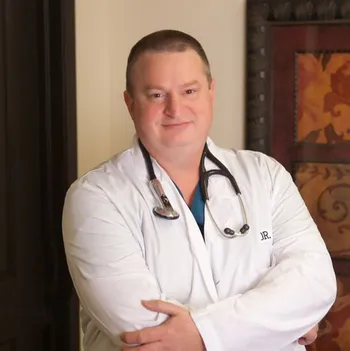 Dr. Gregory Prisinzano is unique in that he has been single-minded about being a veterinarian his entire life. This decision sprang from his innate love for animals. His official career began at the age of 16, working as a kennel assistant at Chimney Hills Veterinary Hospital in Tulsa, Oklahoma. He continued as a veterinary assistant while attending school. While studying at Oklahoma State University Dr. P. (as he is affectionately known by his clients) accepted a preceptorship at Marine Life in Louisiana where he worked with marine animals and aided in the rescue and care of a giant Loggerhead turtle. In 1991 he graduated from Oklahoma State University with his doctorate in Veterinary Medicine. After working briefly in North Carolina he was happy to return to his hometown of Tulsa and a job as a veterinarian back where he started at Chimney Hills. He continued perfecting his skills for the next 17 years. In 2012 Dr. P. realized his dream and broke ground on a hospital of his own. He personally designed the hospital with the idea that a more home-like environment would mean less stress on both the client and his furry patients. Dr. P. and his wife Laura, a retired school teacher, participated in every aspect of the design of the hospital as it was being built. Laura personally decorated the facility with comfy furniture and home interiors. Behind the scenes, Dr. P. ensured the installation of state of the art equipment in veterinary care. Our doors have been opened since January 28, 2013. Laura continues to be a part of the clinic organizing, planning, and implementing many of the promotional parties. Dr. P. and Laura have two children Mia and Gan, and five furry children, Ashley (rescued gray Ragdoll), Gloria (rescued Calico), Stella Jane (rescued Terrier Basenji mix), Waldo (rescue Cairn Terrier Shih Tzu mix) and Mildred Juniper (Texas Heeler). Dr. P., his family, and his staff invite you and your family to join us for a revolutionary experience in veterinary medicine at Tulsa General Veterinary Hospital.

---
Laura Prisinzano-Co-Owner/Practice Manager
Ms. Prisinzano was born in Ft. Worth Texas and raised throughout our nation as an "Air Force Brat". She moved to Oklahoma during high school and graduated from Broken Arrow Senior High. Graduating from St Gregory's College, she received an Associates Degree in Performing Arts. She went on to achieve a Bachelor's Degree in Arts and Sciences from OSU and returned the next year to complete her teaching certification. Ms. Prisinzano taught five years at Fannin Middle School in Amarillo, Texas before returning to the Tulsa area to be closer to the family. She then taught 18 years with the Jenks Public School district at JMS during which time she received her Master Degree in Philosophies of Education from OU. Ms. P. has directed close to 50 children's plays and musicals during her teaching career and enjoys all forms of the arts. Now retired from teaching, Ms. Prisinzano loves working with her husband. Dr. and Ms. P. have two children Mia and Gan. Ms. P. wrote and illustrated a book for her children about her journey to their adoption. In her spare time, Ms. P. loves write and to shop especially for shoes. She enjoys spending time with her enormous and very funny family. Laura also loves cats. She and Dr. P. own four kitties who live at the clinic, Binx (a Bombay), Hank and Buster (two persnickety Tuxedos), and Bartholo-Mew (a flame point Siamese), all can be seen lounging on the clinic couches or in the windows. Ms. P. and the staff at Tulsa General Veterinary Hospital invite you to keep your kitties healthy with yearly exams in our cat only examination room and to keep a look out for our expansion which will feature cat-friendly boarding!

---

Chris Wade-Patient Care Supervisor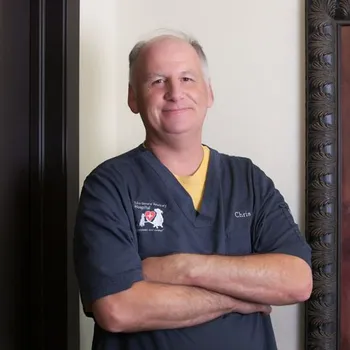 Mr. Wade has been working in veterinary care since 1986. He is part of the dynamic duo that is Tulsa General's lead team (Dr. P. and Chris). They have been working together since 1995. Mr. Wade is the pet whisperer here at Tulsa General. Trained in every aspect of the tech position, Mr. Wade can perform dental cleanings, administer medications and vaccines, assists in surgeries, exams, house calls, and emergencies. Mr. Wade has become so trusted by our clients that many utilize his services for home pet sitting. He has cared for the pets and houses of Tulsa's elite. Call Tulsa General to contact Mr. Wade for your pet sitting needs. This service is separate from the Hospital but he can provide recommendations upon request. Mr. Wade can often be found around the hospital giving extra care and attention to our hospitalized patients as well as those who are boarding. Mr. Wade is also in charge of hiring, training and overseeing the work of our other techs here at Tulsa General. In addition to this work, Mr. Wade also takes great care in the upkeep of our grounds putting his landscape and lawn care skills to good work. He is married to Tonia, who works security at the Tulsa Fairgrounds, and has two daughters, Crystal and Heather and three grandchildren Tabitha, Harrison, and Hallee, who attend school in Wagner, Oklahoma. Mr. Wade's furry children include Tiger #1 and #2 (Tabbies), Girl Kitty (Calico), Lily (white cat), Ricky Bobby (gray and white cat), and Cody (black Lab). Chris Wade Invites you to bring your furry children by for preventative check-ups and dentistry work. Mr. Wade and the staff of Tulsa General welcome you to call for preventative care appointments.

---

Cindy Domeier-Head Baker (The Nibble Nook)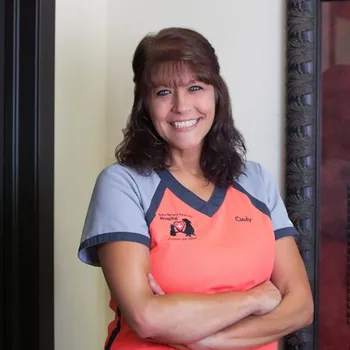 Ms. Domeier is new to Veterinary care. She graduated from Broken Arrow High School in 1985 and studied Cosmetology. She practiced hairdressing for twenty-five years, owning and operating several different beauty shops in Tulsa and Broken Arrow. Retired from cosmetology, Ms. Domeier only sees her exclusive clients. A return to the workforce brought her to Tulsa General. She is interested in learning grooming (a new twist on her hairdressing abilities), as well as veterinary care duties. Ms. Domeier has always loved animals and takes extra care of the adopted pets that had been abused or abandoned. She has a particularly soft heart for these precious babies. She is often found loving on our borders and giving them extra attention while their families are away. Ms. Domeier has two sons Anthony West (a retired Army SGT. E5) studying motorcycle and watercraft technology at Tulsa Technology Center and Kristopher Domeier, a daughter Kaylee Domeier, a grandson Caiden, and grand daughter Jaime. Ms. Domeier and the staff of Tulsa General invite you to call and ask about our many boarding options.

Erica Campbell- Office Manager
Elayna Cox- Client Care Specialist
Anna Pierce- Client Care Specialist
Christian Holmes- Client Care Specialist
Christina Moreno- Client Care Specialist
Patricia Munz- Client Care Specialist
Kahlen Wiseman- Client Care Specialist
Presley Autry- Patient Care Specialist
Chey'Lynn Cleek- Patient care Specialist
Taylor Bradley- Patient Care Specialist
Katelyn Casey- Patient Care Specialist
Madison Orman- Patient Care Specialist
Jasmine Oben- Patient Care Specialist
Huy Pham- Patient Care Specialist