Because you rely on us for so much, we want you to know everything possible about Tulsa General Veterinary Hospital.
On this page, you will find information on our approach to veterinary medicine, special services,
contact information, and office hours.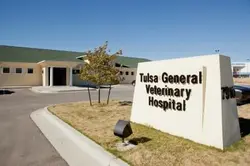 Tulsa General Veterinary Hospital
7910 S 107th E Ave
Tulsa, OK 74133
Ph: 918-806-1111
Fax: 918-286-0756
[email protected]
[email protected]
Office Hours

| | |
| --- | --- |
| Monday: | 7:30 AM - 6:00 PM |
| Tuesday: | 7:30 AM - 6:00 PM |
| Wednesday: | 7:30 AM - 6:00 PM |
| Thursday: | 7:30 AM - 6:00 PM |
| Friday: | 7:30 AM - 6:00 PM |
| Saturday: | 9:00 AM - 3:00 PM |
| Sunday: | Closed |
We've included several ways to contact our pet hospital. Please give us a call, stop by, send an email, or simply fill out the form on our contact page . We are looking forward to meeting you and your furry family members.
We are located at 7910 S. 107th E. Ave - at 81st St. and highway 169. Our hospital is the beautiful building between Arvest Bank and Academy Sports.
We love giving tours of our facility so stop by anytime.
We diagnose before we treat
We schedule a full 30-minute appointment for all our exams. This allows ample time to discuss your concerns with our doctors and to provide your pet with a comprehensive exam. If you phone us with questions, our client care specialists are happy to assist you. If additional information is needed, a doctor calls you back the same day.
We provide expert medical care, should your pet become ill or injured. We offer a full range of excellent animal care with specialized diagnostic and life-saving skills. We also provide consultations with board certified specialists.
We provide:
Wellness Exams
Vaccinations
Spaying/Neutering/Declawing
General Surgery Services
Anesthesia
Pain Management
Diagnostic Blood and Urine Profiles
Consultation with Board Certified Specialists
Microchipping
Dentistry
Radiology
Ultrasound
Endoscopy
Pharmacy
Prescription Diets & Flea/Tick Control
Boarding/Daycare
The veterinary staff at Tulsa General Veterinary Hospital is pleased to offer boarding services to all of our patients. We understand the emotions attached to leaving your pet while you are away. We try to relieve the anxiety associated with boarding by providing a large, state of the art facility with a warm and inviting atmosphere while also keeping your pet's health and well being a top priority. Our goal is to take the worry out of your travels.
The benefits of boarding at our facility include:
Each pet is supervised and cared for by a member of our highly trained veterinary staff
Should an emergency or illness arise, treatment is readily available
Large outdoor exercise yard
All pets are fed Science Diet or owners may bring special diets
Payment
Cash, check, all major credit cards, and Care Credit are accepted for payment.
Cancellation Policy
If you are unable to show up for your scheduled appointment please notify us at your earliest convenience.
Schedule Online
Request an appointment online here or call (918) 806-1111 and speak to a client care specialist.
Contact
Questions? Please contact Tulsa General Veterinary Hospital for further information.